Cycling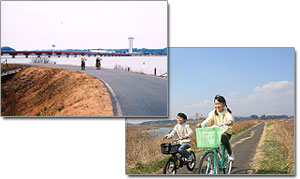 This is a 35 km cycling course which begins at the tip of the Kasumigaura peninsula. Offering a spectacular view of the Tsukuba Mountain Range, this superb course runs from the Kasumigaura lakefront and all along Koise River.

{Contact}
Kasumigaura Tourist Association Office (City Tourism Trade and Commerce Dept.) TEL:029-897-1111
Cycling Course Map
Below is a guide map for the cycling course. You can see an enlarged image of the various areas by clicking on the photo images below.

⇒Explanation of the Kasumigaura Lakeside Course
⇒Explanation of the Koise River Course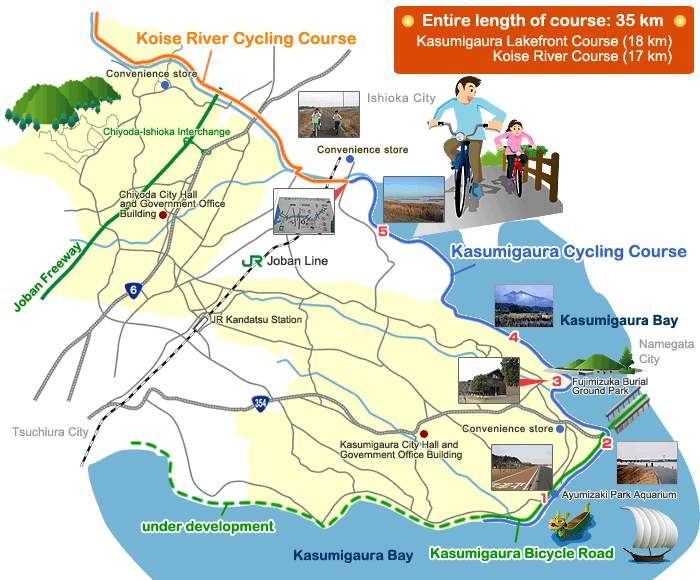 Kasumigaura Lakefront Course
Beginning from in front of the aquarium, the course makes up an 18 km segment of the trail which extends all the way to Takahama in Ishioka City which also serves as the connecting point between the two trails. Although the course runs along the top of the embankment lining the waterfront, riders can easily adjust the distance that they would like to ride since they are free to enter and exit the course from the adjacent roadway all along the way. (Distance markers are posted on top of the embankment beginning from Tsuchiura City).

■Points of Interest
Along with being able to drench oneself in the abundant nature of the Tsukuba Waterfront National Park, riders will also find a number of excellent photo opportunities along the way.
(The numbers below correspond with the numbers on the map above).
1.At the starting point, get photos of the aquarium and the cloth sailboats (check for sailing days in advance).
2.At the 3.5 km mark, get a photo of the giant Kasumigaura Bridge in its entirety.
3.At the 7 km mark, photos can be taken of the Fujimizuka Burial Park exhibit, as well as of the view seen from atop the burial mound.
4.At the 10 km mark, snap a photo of Tsukuba Mountain. This spot is highly recommended, as the beautiful form of both the "male and female" peaks of the mountain makes for a terrific shot.
5.At the 12 km mark, the sprawling Ashihara plains are a treasure a treasure trove for photos of wild birds.
Koise River Course
For the Koise River Course, a genuine cycling road designated specifically for bicycles makes up the remaining 17 km segment of the journey which begins at the joining point with the Kasumigaura Lakefront Course and ends at Urasu in Ishioka City, highly recommended for long-distance riders. Be aware that entrances to the course are limited throughout this segment of the course.

■Points of Interest
Since the course gradually winds its way toward the hills of the Tsukuba Mountain Range, there are plenty of opportunities to alter your route and explore the local wilderness by engaging in activities like fruit picking and delving into the history of the area. For those of whom cycling alone just won't suffice, think about the potential to branch off and create your own little adventure by taking advantage of all that the region has to offer.